Goggin Energy is a Portland, Maine based energy services company
We offer energy efficient mini split air source heat pumps, whole house heat pumps, solar electricity (PV), and heat pump water heaters. We believe that the world has reached a tipping point, and that residents of the US have to play their part in reducing our energy consumption and specifically the combustion of fossil fuels at each of our homes. 
Goggin Energy is a division of The Goggin Company, which has been in business since 1999. Our background is in commercial real estate development and property management. During this time, we have become increasingly concerned about the impact of the built environment on our planet. At the same time, we understand that there are different motivations for action: some are motivated by concern for our planet, some primarily want an economic return on their investment, others are concerned about our national security, some want to do their part to avert construction of more power plants; most have some combination of motivations. We believe strongly in the economics of air source heat pumps, and getting your hot water off propane and oil. We believe that as a society we are going to electrify all of our energy needs (heat, autos, hot water, as well as lights and plugs), and that increasing distributed solar is key to that future.
We are mission oriented; we believe in transparency and honesty; and we believe in the importance of knowing the numbers (economic performance, solar output, etc.)
We hope that you will choose to take action and change our reliance on fossil fuels at our homes and buildings, and that you will choose Goggin Energy as your partner in walking that footpath.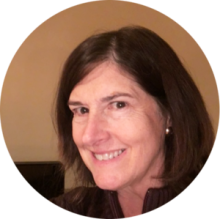 Ann
Goggin
Ann Goggin has worked in commercial real estate development and property management for over 30 years. While developing a project in the United Kingdom she became aware of how destructive most US real estate development is to "green field" development, and grew concerned about the impact of our built environment on the natural environment. Ann is passionate about helping communities get off oil and propane, and instead use advanced technology for electricity and heat. A "numbers" person, she firmly believes that energy efficiency and increasing use of solar is not only good for the environment, but also makes economic sense and is good for our local economies and national security.
Ann was the administrator for the loan program for the Seacoast Energy Initiative, which provided low interest loans for energy efficiency projects in southern York County. She is a former Falmouth Town Councilor, and former Chair of the Falmouth Green Ribbon Commission on Climate Change and Energy. She holds a BA from Wellesley College and MBA from Harvard Business School.
Greg
Dorsey
Greg Dorsey has a diverse background including general construction, radiant floor heating, building performance work, and solar design and installation. Greg is a certified installer for Daikin and Fujitsu heat pumps, a Building Performance Institute (BPI) certified building analyst, and a Maine certified solar installer. Greg was the program manager for the state's largest commercial solar installation (at that time), and is passionate about energy efficiency and all things solar.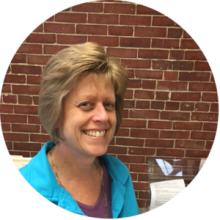 Paula
Junkins
Administrator Extraordinaire
Paula Junkins has worked for Goggin Company for over ten years, and has extensive experience in property management and loan processing. She provides administrative office support and handles customer and vendor communication. Paula enjoys working with homeowners who want to move away from fossil fuels and towards energy efficiency. Paula is your "go-to" person for general inquiries, status updates or arranging a site visit or installation.
Adam
Frederick
Adam joined Goggin Energy in 2016 with the heart of an engineer, and a deep seated commitment to reducing our collective impact on the environment. When he isn't calculating heat loads and investigating the latest in solar technology, he can be found found riding a bike or working on any number of musical projects. An award winning bassist and composer, Adam earned his BA in Jazz Performance from the University of Maine.